ARTICLES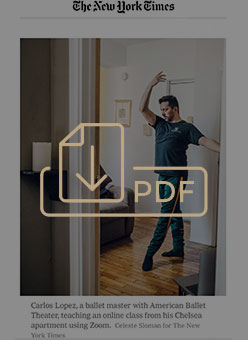 THE NEW YORK TIMES
DANCERS STILL NEED DAILY CLASS. NO BARRE? JUST GRAB A CHAIR.
March, 25 2020
"Are we sweating a little bit?" the ballet master Carlos Lopez said leaning forward and squinting into computer screen. Above his image was a scrolling row of squares — thumbnail videos of dancers from American Ballet Theater…
THE NEW YORKER
DANCING ON THEIR OWN DURING CORONAVIRUS CRISIS
May, 21 2020
It's noon on a Friday in May, and the now-familiar illuminated squares of Zoom begin to pop up on a computer screen…
LINK:

Download
BALLET Y MAS
CARLOS LOPEZ, ASI VIVE EL CONFINAMIENTO EL BALLET MASTER DEL ABT
April, 11 2020
Con Carlos López, Ballet Master del American Ballet Theatre (ABT), iniciamos una serie de entrevistas a bailarines y personajes del mundo de la danza.
LINK:

Download
NATIONAL GEOGRAPHIC
WORK WAS THE WORLD FOR MANY. NOW IT'S A VERY SMALL PLACE
April, 1 2020
A global pandemic is teaching us that the intersection between geography and culture we're most accustomed to is our office.
LINK:

Download